Simons reappointed to Olympic group
Updated: May 18, 2015 01:41 PM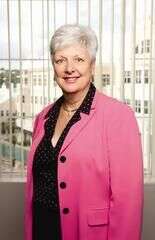 Judy Simons, the Bermuda Olympic Association president, has been reappointed to the Association of National Olympic Committees' Events Working Group for 2015.
The ANOC Events Working Group is one of nine commissions and working groups introduced by ANOC under the leadership of Sheikh Ahmad Al-Fahad Al-Sabah. The commissions and working groups seek to protect and advance the collective interests of the 205 National Olympic Committees that make up the association, by ensuring that finding solutions to the most important issues facing the NOCs is kept at the very forefront of ANOC's agenda.
The ANOC Events Working Group is focused on introducing, developing and managing sporting festivals and events recognising advancements and excellence in athletics and Olympism across the NOCs, such as the ANOC Gala Awards and the World Beach Games. The 2015 Working Group is chaired by Timothy Fok of Hong Kong, and has representatives from nine NOCs.
"I am honoured to have been appointed to the ANOC Events Working Group," Simons said. "I look forward to working with Mr Fok and my fellow working group members as we implement plans for ANOC events in 2015 that will enhance collaboration of the NOCs and elevate the organisation."
Simons' appointment to the ANOC Events Working Group is her third international appointment since becoming president of the BOA in 2008. In 2012, Mrs Simons was named to the committee focused on the modernisation of ANOC. She was previously appointed to the ANOC Events Working Group in 2014.