One day at a time for Hood post-Muzzy
Updated: Sep 27, 2018 10:33 AM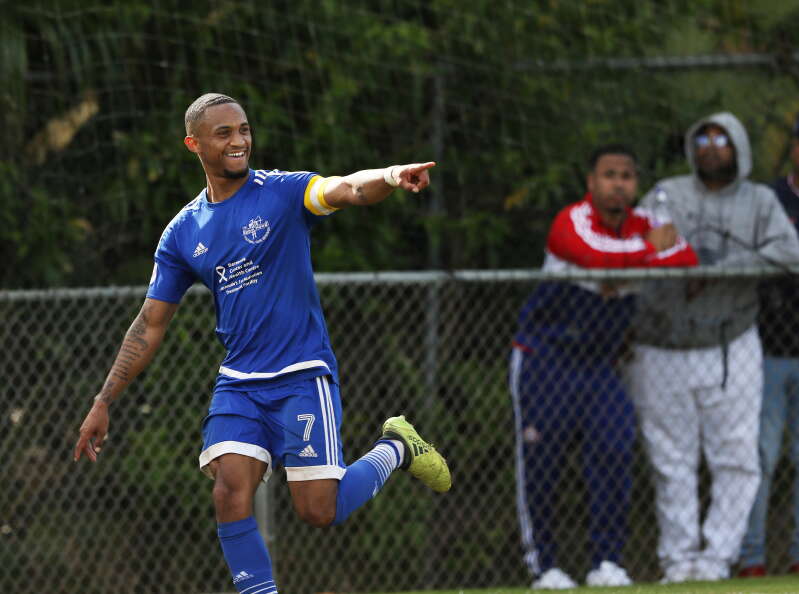 Robin Hood 2 Somerset Trojans 1
Robin Hood picked up their first win in the league after second-half goals from captain Lejuan Simmons and Shakir Smith enabled them to edge by Somerset Trojans last night at Goose Gosling Field.
The last time the teams met, in a Dudley Eve Trophy tie two weeks ago, Robin Hood came away convincing 7-1 winners. This time it was much closer as they were without three players from that starting team, as well as Simmons, who started on the bench because of an injury.
The first half had few chances, with the closest either team coming to scoring being Aaron Nelson's 25-yard effort on the half-hour mark that hit the underside of the Somerset crossbar. Hood players claimed the ball dropped over the line. They went close again minutes later when Chris Ricca blasted a long-range shot just over the bar.
Somerset looked more solid at the back, after conceding five first-half goals in that cup match. However, Hood's attack wasn't as potent without Antwan Russell, who was serving a suspension after a red card in the last match.
Hood introduced Simmons at the start of the second half, but it was Somerset who came close to breaking the deadlock just a couple of minutes after that when Justin Corday robbed Dominique Williams and raced towards goal down the left side before putting in an inviting cross inside the six-yard box that went untouched across the goal with no Somerset player following up.
At the other end, Smith laid on a good cross inside the box for Simmons, but he poked his effort over the bar. Simmons made amends minutes later when he broke the deadlock after capitalising on an error by goalkeeper Yizharyah Williams.
Casey Castle provided the cross from the left and Williams, whose handling was flawless up to that point, dropped the high ball and Simmons quickly pounced to steer the ball home.
Coach John Barry Nusum, who came on as a substitute just before the goal, helped to set up the second when he challenged Williams for a ball near the edge of the box. The ball bounced free and Smith drove a right-footed shot into the empty net.
Somerset, who had only three substitutes themselves, continued to battle with Corday working tirelessly in midfield, and they got their reward with a consolation goal from Corday from a free kick on the edge of the box after goalkeeper Dale Eve was blown down for handling outside the box. Corday stepped up and casually chipped the ball over the wall and into the top corner to cut the Robin Hood lead and set up a tense last few minutes.
"Antwan got cards the last game, 'Lee Lee' is injured so he came on late, Lozendro [Symonds] is injured and Daniel [Andrade] is away, so a lot of guys were out for this game," said coach Nusum, who was relieved to get the three points.
"We had to battle through it and I even had to play because we didn't have enough numbers. We started off with a draw, so to come to another draw wouldn't have been good enough. Somerset put up a good fight; they came to play.
"It was a good free kick and then they put a little bit of pressure on us to finish the game off. That's how it goes sometimes. We were up 2-0 and feeling comfortable and then they get that one back and it puts pressure on us."
Nusum admits the team are still coming to grips with the loss of Mazhye Burchall, who was buried on the weekend. The teams observed a minute's silence at the start and Hood, wearing black armbands, are dedicating their season to their former team-mate.
"It's going to be tough, it's a grieving process," Nusum said. "One day might be better than another for some guys. We are dedicating to 'Muzzy' from now on. He was a Robin Hood player and we have retired his jersey. He's always going to be a part of our group."
Referee Martin Wyer had a busy second half, booking six players, three from each team.
SCORERS
Robin Hood
Simmons 66, Smith 80
Somerset
Corday 86
TEAMS
Robin Hood (4-3-3): D Eve — T Bean (sub: J Nusum, 64min), J Bather, D Williams, J Pereira — P Parsons, A Nelson (sub: L Symonds, 81), T Goater — S Smith, C Ricca (sub: L Simmons, 46), C Castle. Substitute not used: R Wray. Booked: Williams, Goater, Parsons.
Somerset Trojans (4-3-3): Y Williams — Jadan Ratteray-Smith, C Durham, T Ming, M Henschke — J Butterfield, D Swan (sub: K Hollis, 70), J Corday — V Perinchief (sub: Jaz Ratteray-Smith, 63), D Wainwright, D Zuill. Substitute not used: J Hill. Booked: Corday, Wainwright, Zuill.
Referee: M Wyer.