Beyond Paulette: battered but unbowed
Created: Sep 15, 2020 09:00 AM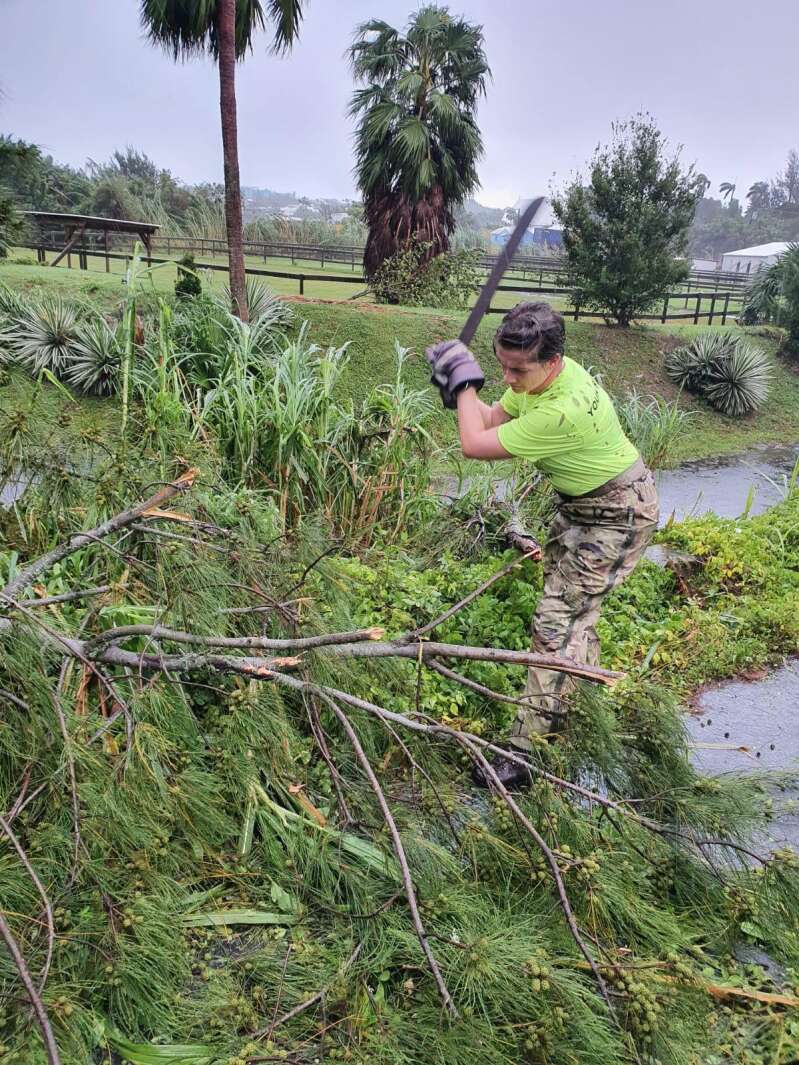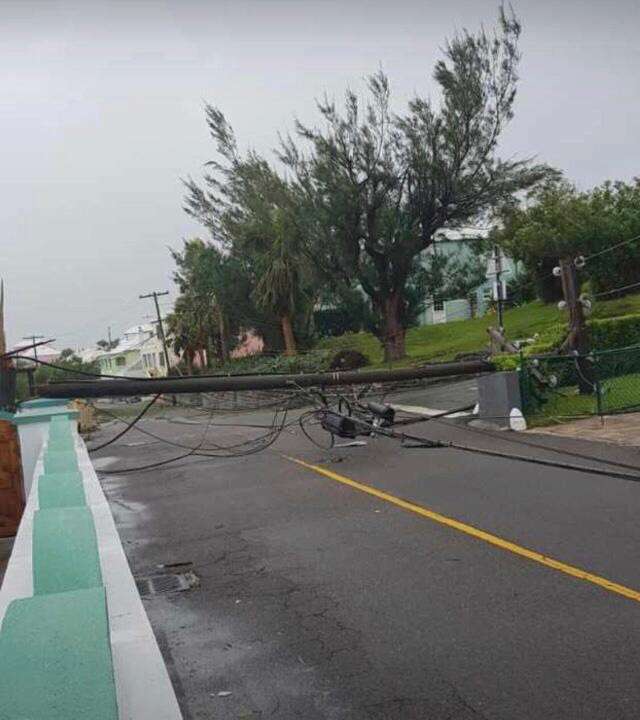 Bermuda took a direct hit yesterday from Hurricane Paulette, which knocked out power to about 23,000 homes across the island by daybreak.
The massive storm arrived off the island just before 6am as a slow-moving Category 1, but turned into a strong Category 2 as it churned to Bermuda's north.
David Burt, the Premier, said last night: "After a day and night of high winds, driving rain and exceptional waves, we are on the other side of Hurricane Paulette, thankfully without any loss of life, serious personal injury and less damage to property than we might have expected. We have weathered the storm."
Maximum winds of about 100mph were predicted, with gusts of up to 115mph. The hurricane passed slowly with an usual lull as the eye moved over.
Bands of hurricane-strength winds and gusts of more than 100mph followed until later than the predicted window of 3am to 10am.
Power cuts hit more than 25,000 of Belco's 36,000 metered customers across the island by noon.
The island has faced worse outages — the double whammy of hurricanes Fay and Gonzalo put more than 31,000 homes in the dark in October 2014.
But this year's recovery effort was hampered by the Covid-19 pandemic, which made help from Caribbean agencies impossible.
The Government warned that social-distancing to protect against Covid-19 may also hinder recovery in the wake of Paulette, which trailed 75mph winds until midafternoon yesterday.
Mr Burt said last night that power had been restored to about 9,000 affected homes.
The sixth named hurricane of a busy season developed as Tropical Storm Teddy formed bout 2,000 miles east-southeast of the island early yesterday.
Early models suggested Teddy would build into a hurricane as early as today and curve towards Bermuda later this week.
But Mr Burt said: "We shouldn't make any assumptions about what may or may not happen as we recognise that storms are unpredictable, but I think that what this storm, Paulette, has shown us is that we have a very well-thought-out process."
He added: "I have no doubt that if the Bermuda Weather Service feels free to issue any additional warnings, the country will take heed and we will be ready."
Renée Ming, the Minister of National Security, said that troops from the Royal Bermuda Regiment, staff from Belco and the parks and public works departments started to clear roads and assess storm damage yesterday "to ensure that we are up and running as quickly as possible".
She added that structural engineers gave an all-clear for the Causeway to reopen at 9pm last night. Ms Ming asked businesses to delay reopening until noon today "when we feel it will be safe for their employees and other commuters to travel the roads".
She said: "We are still having considerable challenges with clearing debris from the roads, and our work crews will need time to remove poles, downed lines and trees without being impeded.
The minister added that the shelter at CedarBridge Academy housed 50 people over the storm and that more arrived after they suffered damage to their homes.
Ms Ming said that on a "note of good news", the Bermuda Hospitals Board reported the births of two boys in the early hours of yesterday morning.
She added: "We extend congratulations to the parents."
Paulette's onset, which coincided with high tide, increased the chances of a very strong storm surge.
The offshore waters were already four to six inches higher than usual after a warm-water eddy elevated the ocean surface.
The tracking of the storm also marked a first in teamwork between the United States National Hurricane Centre and the Bermuda Weather Service.
The NHC reported that Bermuda's radar and weather imagery were comprehensive enough to be used in its hourly position and intensity estimates. Forecasts continued until the radar went offline early in the storm as the eye wall of the hurricane began to come ashore at 3am.
Mark Guishard, director of the BWS, said the collaboration with the NHC was "something they've not done before".
Dr Guishard added the joint effort would "not only give us critical real-time information, leveraging our technology and their hurricane expertise — it will also help develop valuable insights for the post-storm analysis".
The NHC, based in Florida, is regarded as an authority on North Atlantic tropical cyclones. The island was inside the eye of the hurricane by 6am, which the NHC said was 35 to 40 miles across.
Ms Ming said the nearly two-hour calm, which ended around 7.15am, may have fooled even seasoned hurricane veterans into thinking the storm had passed.
She added: "It may have led to a false sense of security, but the hurricane was in no way over."
Ms Ming said: "As we move forward, I think that we'll need to continue to educate our public in that waiting for the all-clear from this group and from the EMO team is what we should proceed with."
The minister said schools and government buildings would stay closed today, but that the airport would open at noon.
She added that the Marsh Folly centre and the Tynes Bay public and commercial drop-off areas for waste would reopen this morning. People who would have had their household trash collected yesterday and today can put it out for collection on Saturday and Sunday.
Ms Ming said that advance polling for the General Election will start tomorrow and that the Department of Health continued to assess Covid-19 test centres and would provide an update about when they could resume operation.
Bermuda's status was downgraded to a tropical storm warning at about 3pm yesterday, with the strong westerly winds of the hurricane's second half dying down by evening.
But the NHC said Paulette continued to strengthen last night. The US authority reported that the storm would build into "at or near major hurricane strength" after if left Bermuda waters and swung to the northeast into the North Atlantic.
Paulette was expected to become a tropical storm on Thursday, when it was predicted to switch course and head south, near to the Azores.
• To view statements from the Premier and the Minister of National Security, click on the PDF links under "Related Media"