Mom rises to running challenge
Created: Jan 25, 2017 08:00 AM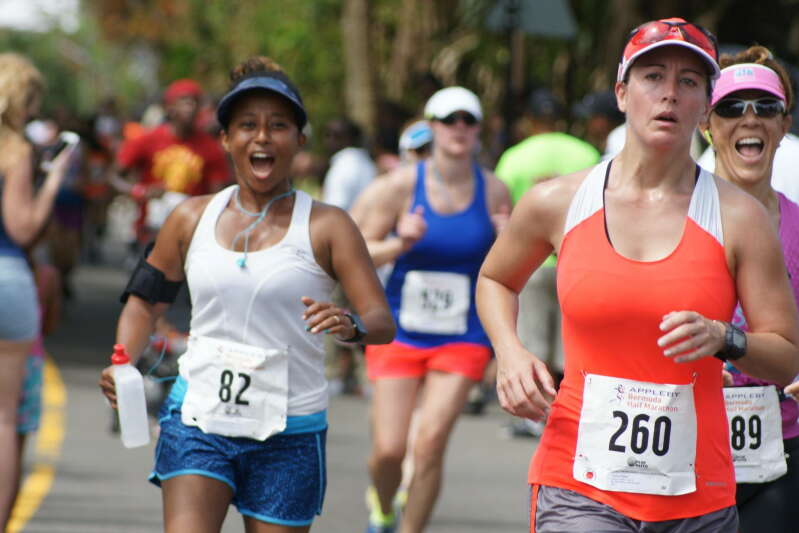 In school, Feven Binega-Northcott would compete to finish a book before contending with any sport.
Lacking "any athletic enthusiasm", the teacher hails from Ethiopia, a country famed for its long-distance running. But, she rarely ran.
"Not unless someone was chasing me," she laughed.
While a spectator at Race Weekend seven years ago, Mrs Binega-Northcott met some visiting Ethiopian contestants.
"Jokingly, they asked, Why aren't you running?" she said.
"In the most loving way they said, you could use a little running because you're a little heavy. They didn't mean it to be rude, they were really genuine," said the mother of two.
"They said, 'Next year we'll come a couple of weeks earlier and we'll train with you and you can run the 10k with us.'"
She agreed. "I enlisted one of my coworkers [Kim Simons] and said, 'You've got to help me because I've now shaken hands and promised'," she said.
"We started running at lunchtimes — from one telephone pole to the other."
The Ethiopian runners didn't train with her, owing to race commitments, but she kept her end of the bargain and met them at the start line in January 2011. She completed the race in 1hr 12min.
"I was really happy with finishing and having one race, the first race, under my belt," she said.
"I had no point of reference. I had done absolutely no running until I was in my 30s."
The 36-year-old has run every year since and it has become tradition that her sister-in-law, Sarah Northcott, flies in for this weekend to run alongside her.
This year, she ran it in 01:01, a personal best. It was also her first time participating in the Triangle Half-Marathon Challenge.
"I ran the Front Street Mile, the 10k and the Half-Marathon, so three races in three days," she said.
She managed the mile in eight minutes, but over the years her times have gone up and down.
"What I've learnt and what I love about running is what you put in is what you get," she said. "If you practise and you're committed, you're keeping it consistent; you'll get the results.
"There were a couple of years in between that I hadn't done any training. When I did that, my timing was really, really bad, I was in the 01:20s.
"I wasn't doing it for the time, it was for the participation.
"This year, I wanted to do all three and I was more interested in getting a decent time without necessarily killing myself."
A boost in confidence came from completing her first Bermuda Half-Marathon Derby last year.
"I decided to go for it. I really want to do May 24 and see what this is about," she said after a failed attempt six years ago. She broke her foot just a month before the big day. She said she will "absolutely" run this year.
"It was really hot and humid, but the atmosphere was wonderful.
"I told myself that I was going to enjoy it; I stopped at every water stop; I cheered and laughed; I had fun; I was so excited to survive the first 10 miles and to see my family who were waiting for me there."
Running has become a way of life for the Somersfield teacher, who sets off anytime between 5.45am and 6am.
"Running for me is about that hour or 45 minutes or 30 minutes that I have to myself.
"I work with children, I have children, so it's pretty intense. Just that one hour in the morning that I have to myself before anyone wakes up, before I can talk myself out of going."
She said having a "buddy" was key in the early days.
"I wouldn't mind letting myself down, but if I know somebody is waiting for me, I wouldn't want to let them down.
"Once I started seeing results, I told myself that I was going to rely on myself. I'm not going to rely on another person. Sometimes things change and their excuses become yours."
She's not entirely alone. She has found a large community of morning bikers, runners and walkers.
While Bermuda is "drastically different" to Ethiopia, she said: "I've never felt like an outsider. The pace of life is different and things are more expensive, but everyone embraced me when I came.
She moved to the island 15 years ago after meeting her husband, Jonathan Northcott, while he was visiting a friend in her hometown.
Her advice to new runners is to: set goals and make sure it's something you can commit to; find a buddy and other ways to make yourself accountable; subscribe to podcasts for inspiration; and enlist the help of a coach and physiotherapist.
She added: "There are lots of resources on the island, it's just a matter of finding the right community that fits."