The watermelon whisperer
Updated: Jul 15, 2021 12:05 PM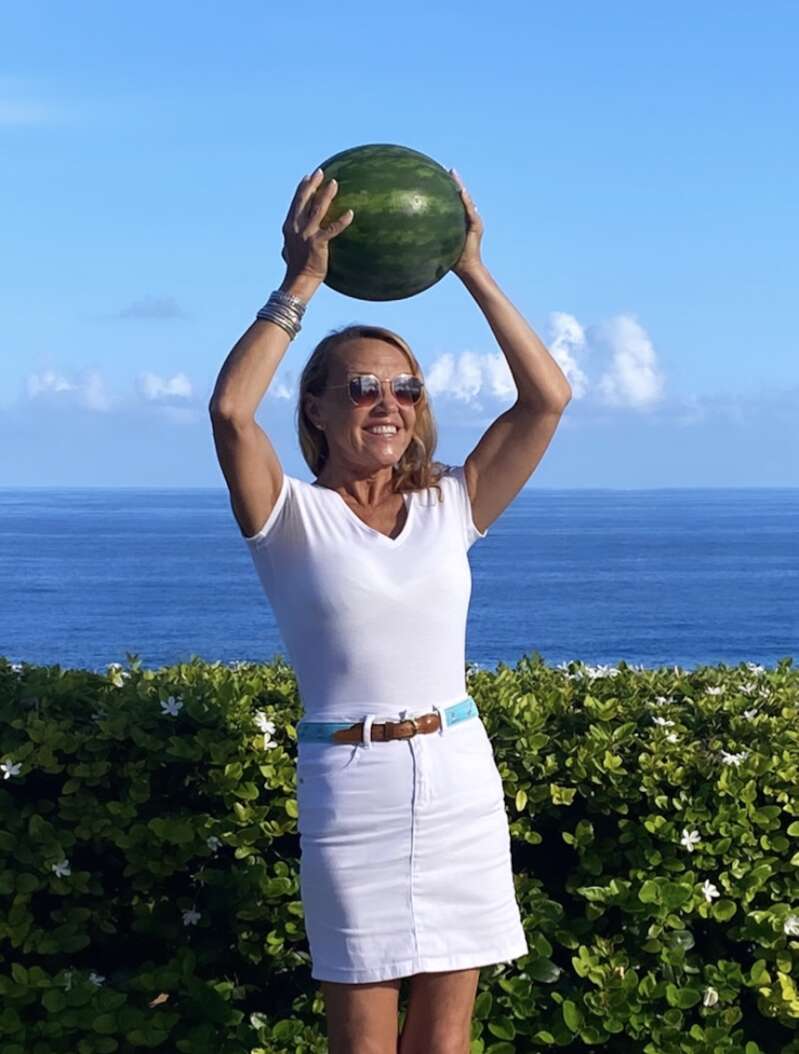 Yesterday, I rang the bell of our front door.
My husband Bill opened it and looked down at my feet. He jumped aside as I rolled a big watermelon with my toes into our living room. Bill's face was the picture of surprise. I couldn't stop laughing.
"You bought the entire watermelon? Are you going to eat that monster? All of it? You know I don't eat them." These words poured out of him in rapid-fire succession. All the time, I was giggling and pushing the watermelon with my feet, straight towards our kitchen.
As I rounded the corner, I answered over my shoulder, "It is not just a watermelon, it is a delightful memory from my childhood!" And then I laughed again.
My father loved watermelons. He believed that they are very good for one's health, especially for our kidneys. One day, we were walking in Irkutsk, Siberia in the maze of streets that made up the outdoor market. We rounded a corner, my father striding purposefully ahead. He stopped, slowly shaking his head in appreciation. There was his destination: a vast pile of rich, green watermelons.
Through my childhood eyes, it appeared to be a mountain of green boulders, and I wondered if they would begin rolling towards me. I thought of running back through the winding streets pursued by a torrent of bouncing, rumbling spheres.
He took my hand, smiling from ear to ear. "Come! We have found the treasure!"
Instantly, my hesitation vanished, and we ran down the street laughing, coming to a stop at the base of the towering pile.
He chose one, and bent down on one knee, tapping it with his index finger. He put his ear up against the shiny skin and listened with keen attention.
"Nina, the watermelon has a voice inside."
My eyes grew huge. "Is there someone in there?" I whispered, looking about, careful with this new secret.
He threw his head back and laughed, nodding vigorously. "Yes, yes! Exactly! And she answers me with an echo. Come listen!"
I put my small face against the watermelon and he tapped away. Sure enough, I heard an echo! "She is telling me she is ready, perfectly ripe to eat! Put your hand here … feel the vibration?"
We tapped several others but, no echo, no answering vibration.
We began choosing the ripe ones. My father spoke with the seller, a stout of a man with skin like mahogany and an exotic cap of embroidered wool. He seemed as if he had walked out of a fairytale. He told us he brought the watermelons from hot and steamy Astrakhan, the ancient caravan centre between Europe and Asia, far away in the very south of the Soviet Union on the Caspian Sea.
My father was fascinated. "How were the summers there? Did they have good rains this year? What about the harvest? And the long road across all of Russia … was it difficult?"
On that September day, we bought two gigantic watermelons, much larger than you find in Bermuda. They were so heavy we could not carry them! My father decided to roll them home. We were rolling them on the concrete path and could not stop laughing. Other shoppers moved to the side and laughed with us, encouraging us with shouts of approval, and an occasional shove to help us with any obstacles.
It was a glorious journey on a warm and sunny day, and I wished it would go on for ever. We arrived home, hot, sweaty and hungry! We called to my mother and my brother and in a few moments we were devouring huge, dripping slices of the sweetest watermelon on earth.
In my Laughing Club each Saturday at noon in the Bermuda Botanical Gardens, I ask women to close their eyes and remember a moment when they were a girl and could not stop laughing. Last week, Jill told us how she would take off her shoes and stomp through puddles in the rain, soaking wet and laughing hard!
In each of us is hidden these laughing girls and boys. It may be deep, but it is somewhere inside waiting to burst out. Close your eyes. Find that joyous memory and let it fill every part of you. Let it out! Laugh and feel a radiant, vibrating energy of joy and happiness! Share a watermelon with your children. You can be sure it will make you all laugh together!
Nina London is a certified Wellness coach, Qigong teacher and Laugher leader. Her mission is to support and help cancer patients and survivors and inspire mature women to make positive changes in their body and mind. Share your inspirational stories with Nina at www.ninalondon.com and follow her on Instagram @coachninalondon