Chipotle chicken with maple and lime
Created: Jan 18, 2019 08:00 AM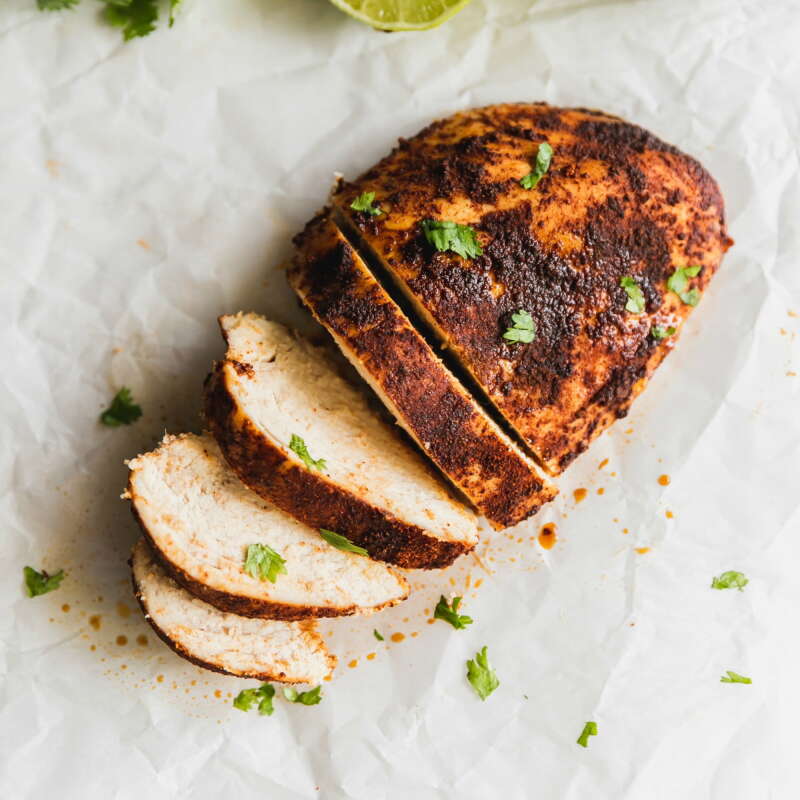 I'm having one of those moments when all my deadlines seem to be colliding at once. I've been planning my butt off since December to make things more streamlined over here at Natural HQ.
It had all been going so well, but throw in four family birthdays, a party for a giddy 11-year-old, a malfunctioning pump, a broken washing machine, bunnies on the loose and a scare with the dreaded head lice …. and it's all gone to hell.
So, I'm sitting here waiting for a mega file to upload and send to the printers, finishing this and waiting for a call re said pump. Am having a minor heart attack.
The silver lining is that all children are present and correct at school, sans head lice. It turns out we had a bad case of glitter … but with lice going around, everyone is just automatically itching. Are you scratching your head yet? What is it with that?
So last night, while I should have been working on the mega document and writing this, I was basically burning the house down, fumigating and washing all children, bed linen and stuffed animals.
The stuffed animal to kid ratio in our house stands currently at 1,000,000:1, so it's been quite the project. No wonder the washing machine broke down. It saw me approaching with yet another armload of bears, dogs and a donkey too and then basically told me the electrical equivalent of no flippin' way. That's the polite version…
However, by the time you read this it will be Friday and I have a quiet weekend ahead. Time to unwind and shake off the week.
Good thing too, as we have a two-week detox starting Monday and I need to do a little bit of prep. This time we're doing a digestive detox, getting rid of all the bloating, irregularities and heartburn that seem to plague almost everyone!
Last night, at about 3am, after taking off my hazmat suit, I pulled all the recipes into one easy document.
I stumbled across this one which is an old favourite I'd forgotten about. Gosh, I love it! Packed full of flavour and follows all the clean-eating rules. So, if you'd like something a little sweet and a little spicy over the weekend, give this one a try.
I'll be in my hammock with a mojito — because the detox starts on Monday!
Chipotle chicken with pinto beans, maple and lime
Olive oil spray
1 tbs maple syrup
2½ tsp safflower or light olive oil, divided
1 tsp lime zest plus 2 tsp fresh lime juice, divided
¼ plus 1/8 tsp chipotle chilli powder, divided
½ tsp sea salt, divided
Pinch fresh ground black pepper
4 bone-in, skinless chicken breasts, (about 2½lb total)
1 small red onion, finely chopped
1 tbs minced garlic
1 tbs finely chopped seeded jalapeño chilli pepper
1 tbs unsalted tomato paste
1 15oz BPA-free can unsalted pinto beans, drained and rinsed (Try Eden Organic Pinto Beans)
1 cup low-sodium chicken broth
3 tbs finely chopped fresh cilantro leaves, divided
Method:
Preheat oven to 400F. Line a large rimmed baking sheet with foil and mist with olive oil cooking spray.
In a small bowl, combine maple, 2 tsp oil, lime juice, 1/4 tsp chilli powder, 1/4 tsp salt and black pepper.
Using paper towels, pat chicken dry and place on prepared sheet. Brush chicken evenly with maple mixture.
Roast for about 30 to 35 minutes, turning over halfway, until golden brown and chicken reaches 165F when tested with an instant-read thermometer in thickest part.
Remove from oven, cover and let rest for five minutes. Using tongs, turn chicken to dip both sides in caramelised juices on sheet. (Alternatively, use a brush to brush it on.)
Meanwhile, in a medium saucepan on medium, heat remaining ½ tsp oil. Add onion, garlic, jalapeño, remaining 1/8 tsp chilli powder and remaining ¼ tsp salt.
Sauté until onion is soft, about five minutes. Add tomato paste and sauté for one minute. Add beans and broth, and bring to a simmer on medium-high. Cover, reduce heat to low and simmer for 25 minutes more. Stir in lime zest and 2 tbs cilantro.
Divide beans among shallow bowls and top each serving with one piece of chicken.
Drizzle any remaining juices from baking pan over chicken and sprinkle with remaining 1 tbs cilantro. I serve this with brown rice or quinoa and tons of green veg!
• Catherine Burns is a fully qualified nutritional therapist trained by the Institute for Optimum Nutrition in the UK. For details: www.natural.bm, 236-7511 or, on Facebook, Natural Nutrition Bermuda