Girls learn coding at camp
Updated: Nov 07, 2018 09:31 AM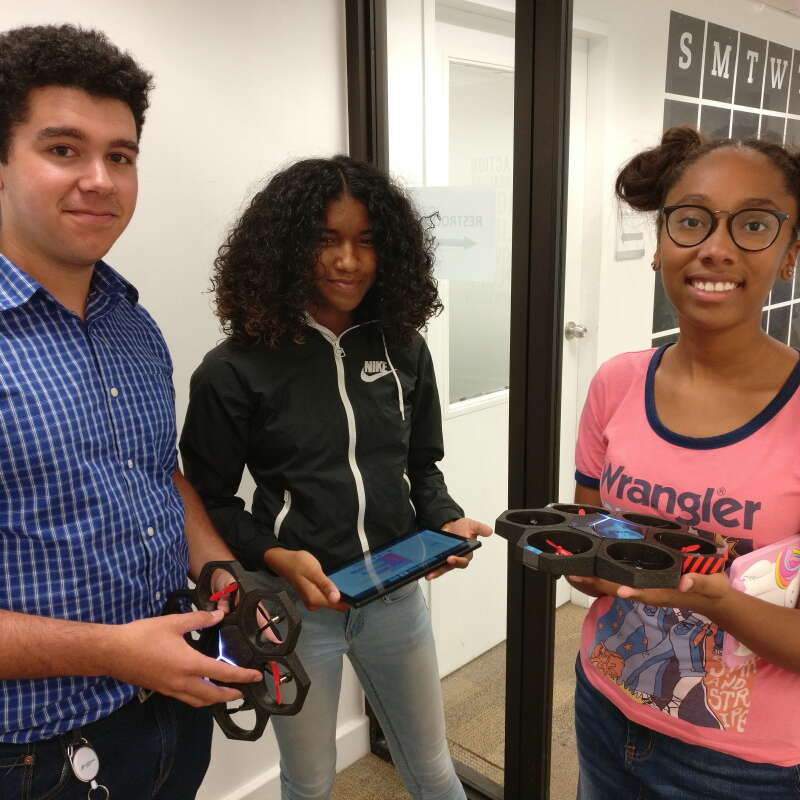 Connectech hosted its second all girls' coding camp during the most recent half term school break, introducing public middle school girls to coding drones and hovercrafts at the tech incubator's purpose-built space on Cedar Avenue in Hamilton.
Thirteen girls from Bermuda's public middle school system attended the one-week camp funded by Hamilton insurance Group ("Hamilton"), a Bermuda-based insurer and reinsurer leveraging data science and analytics to advance the science of underwriting. Connectech's instructor, Zär'a Cardell, used a block-based programming language to teach the girls how to code the drone, which was able to transform into seven other vehicle forms.
Connectech founder Coral Wells said: "We were excited to offer another opportunity for young girls in Bermuda to learn to code, this time through an exciting activity using drones and hovercrafts as vehicles.
"It is encouraging to see the increase in interest in technology among girls but the gender gap is still a significant issue. Connectech will continue to offer opportunities to increase awareness for our girls to excel in this industry.
"We look forward to our continued partnership with Hamilton Insurance Group who make these and many more opportunities possible for our youth today."
Hamilton Re CEO Kathleen Reardon said: "We're delighted with how popular Connectech's most recent coding camp for girls has been and we look forward to following the progress of the girls whose interest has been captured by technology. Maybe a future employee of Hamilton is among them!"
Participating schools were: Sandy's Middle School, Clearwater Middle School, Dellwood Middle School, Gilbert Primary School, Heron Bay, St George's Primary and Warwick Primary School.
Participating Students: Sanaa Berkeley, Priel Minors, Chelsea Minors, Lia Smith, Azari Easton, Christina Leverock, Electra Smith, Siniah Lambe, Celine Smith-Martin, Chloe Morton, Gabriella Charles, Zae'ya Tucker-Crockwell and Tamara Dean.
• Press release from Connectech