Fitness trainer designs new resistance bands
Created: Nov 25, 2020 08:00 AM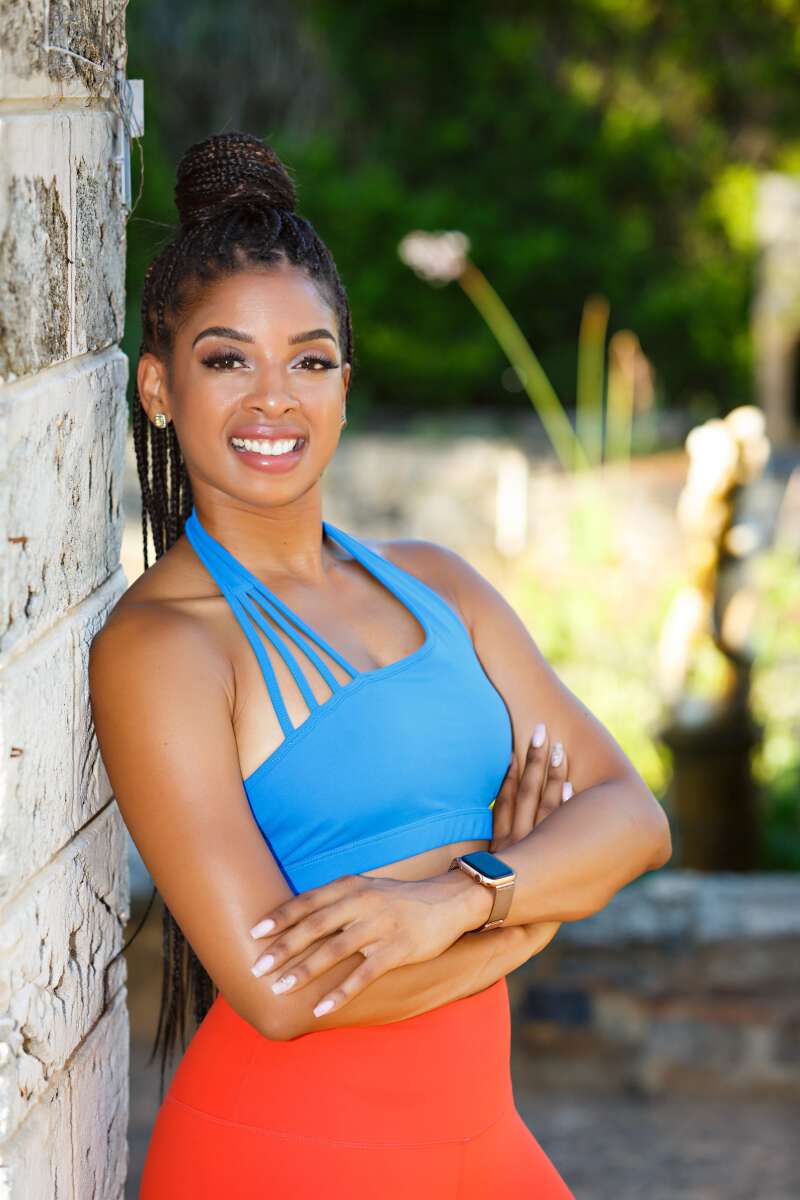 When you sit around in an office all day the muscles in your rear end can weaken.
Personal trainer, Jenia Thompson, of Align BDA sees it all the time.
"Sitting at a desk or working from home encourages poor posture and weakens the muscles that support the core of our bodies," she said.
But she has a solution: high resistance bands to help you train those areas. She has designed them herself using fun patterns, and tough, durable fabric.
"The latex ones tend to slide up a lot and are not as strong," she said. "These fabric ones don't slip. When you use them they challenge you."
The resistance bands can be used during a home training session or can be added to a weight training session. They can be used to train a range of different muscle groups.
Ms Thompson started selling them last week, through Urban Cottage and the Sargasso Sea app.
"There has been interest," Ms Thompson said. "I sent out a few deliveries myself and then Urban Cottage has seen people come in to buy them."
She said one of her challenges in creating the bands was getting samples to Bermuda from China, where they were produced, due to all the Covid-19 related shipping delays.
"And then I had to make sure I was getting the right measurements," she said. "It was a matter of me getting the samples and making sure I was happy with them."
Bermuda is a small market, but for now she does not intend to sell overseas. Shipping is still so unpredictable, she could not guarantee overseas clients would get their resistance bands from Bermuda in the mail in a timely fashion.
The resistance bands were an attempt to diversify during the Covid-19 pandemic.
She had just given up a full time job as an accountant when the virus hit Bermuda in March.
"It was a little stressful," she said. "I had another job lined up for a local accounting firm, but it was more based on hours, so it wasn't that consistent an income. I definitely had some worrisome moments."
In the early weeks of the pandemic she trained clients outdoors, but when Bermuda went into full lockdown, she moved online.
Ms Thompson managed to distribute weights and other equipment to her clients before the lockdown went into effect.
"It is more difficult to train people online," she said. "That one-on-one where you can see the person is underestimated."
She said training online is manageable, but she was happy when she was able to move her clients back into the gym.
Ms Thompson has been interested in fitness since her early 20s. Then a couple of years ago one of her trainers suggested she might be good at training.
"I took a training course at the Bermuda College," she said.
She also took courses in nutrition so that she could also work as a health coach.
She said accounting and personal training both have challenging aspects, but she finds personal training to be more so, because of all the science and physiology knowledge required to do it correctly.
She still has accounting clients, but works with them from home, on her own time.
Her standard size resistance bands are $35 for a pair, and $30 for a mini pair. They are available at Urban Cottage at 11 Front Street and through the Sargasso Sea app.
For more information see alignbda.com or e-mail alignbda@gmail.com. Also see @alignbda on Instagram and Facebook.