Cannonier wins OBA leadership contest
Updated: Sep 11, 2011 01:56 AM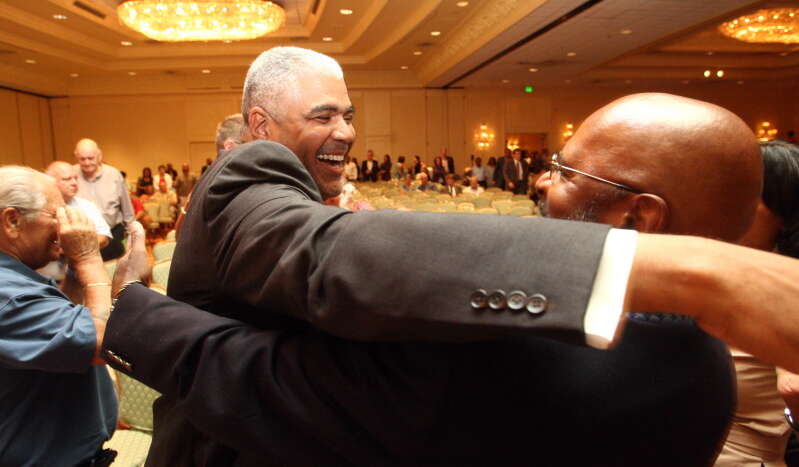 Senator Craig Cannonier is the new Opposition leader after an extremely close victory over Bob Richards at the One Bermuda Alliance leadership conference.
Sen Cannonier scored 344 votes to the Shadow Finance Minister's 330, with eight spoilt ballots, on a tense evening at the Fairmont Southampton.
Senator Michael Dunkley defeated Trevor Moniz by 506 votes to 163 to become deputy leader.
Michael Branco and Jeanne Atherden were elected deputy chairmen over Karen Magnum.
A jubilant Sen Cannonier told The Royal Gazette: "It's a new day. I'm glad the voting was so close because it shows that we are engaged.
"The OBA is very very serious about moving this Country forward."
Mr Richards said: "I'm what they call a political bridesmaid."
The results were announced by party chairman Thad Hollis at 12.30am on Saturday night, following a count that lasted more than an hour.
Earlier, in front of a crowd of about 1,000, Sen Cannonier had delivered a rousing speech stressing the need to show the new Opposition is serious about change.
He spoke passionately about race, telling the audience the OBA must confront the issue head-on and not allow the Progressive Labour Party to direct the conversation.
Mr Richards said the PLP's achilles heel is the economy and claimed the OBA needs to make that issue its strength by electing him leader.
The Shadow Minister also pointed to his own vast political experience in contrast to Sen Cannonier, claiming a cricket team would not select a colt as captain for Cup Match.
This afternoon, Premier Paula Cox issued the following statement: "I extend best wishes to Senator Craig Cannonier on his election last evening as leader of the OBA, and to all successful candidates in the OBA's executive elections; notably Senator Michael Dunkley on his impressive 75 percent victory in becoming Deputy Leader of the Opposition party."