Hind strikes right note at Scottish festival
Created: May 29, 2019 09:00 AM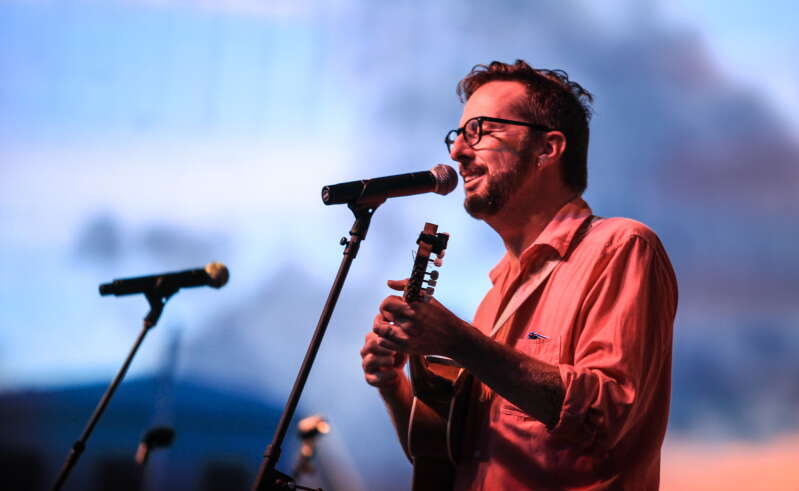 The Ukulele Festival of Scotland enjoyed a taste of Bermuda, thanks to musician Mike Hind.
Mr Hind has become a fixture of the festival held in Dumfries, Scotland, which brings together a range of international performers for concerts and workshops.
This year he held workshops last Saturday and joined in at the Grand Finale Concert.
Mr Hind said: "This festival is amazing. I remember the Seventies and the famous people we used to have come down to Bermuda and how they'd be treated like kings.
"That's how the Ukulele Festival of Scotland treats their guests, both the artists and the festivalgoers.
"In each jam room, where people go to play, there are little baskets of reading glasses just in case. That is how amazing this festival is."
Mr Hind's involvement in the festival started several years ago when he started touring Britain during Bermuda's off-season.
He said: "One of the gigs was in a lovely town called Colvend in southwest Scotland. It was organised by the leader of a local ukulele group, Stuart Butterworth.
"At dinner beforehand, he invited me to play the festival he was thinking about organising. The gig was amazing and I closed the show by asking the audience to 'please rise for the Scottish National Anthem'. They did, and I played 500 Miles by The Proclaimers."
He added: "What was awesome was that, not only was no one offended, half of them put their hands over their hearts and started marching in place, singing along at the top of their lungs."
Mr Hind said Mr Butterworth and his wife, Linda, approached him after the show and told him that they did not want him to play the festival.
He added he was devastated, until they asked him if he would headline the festival instead of just playing it.
Mr Hind said: "I'm a very lucky man, because they've liked me enough to ask me back every time since.
"I do try to represent Bermuda. I have taught these folks that quintessential Bermudian lullaby, She's Got Freckles On Her, But ... ."
The three-day annual festival was attended by about 750 people with performers from Britain, the United States, Canada and Germany.
Mr Hind would love to hold a Bermuda Ukulele Festival, but joked that he was too disorganised to get it done.
He is looking forward to returning to The Dock at the Waterlot Inn in Southampton, where he will perform four nights a week over the summer, and the Docksider Pub in Hamilton, where he will appear with The Limestones on Tuesday nights.