Bermuda under-20s learn little from meaningless affair
Updated: Dec 28, 2010 07:44 AM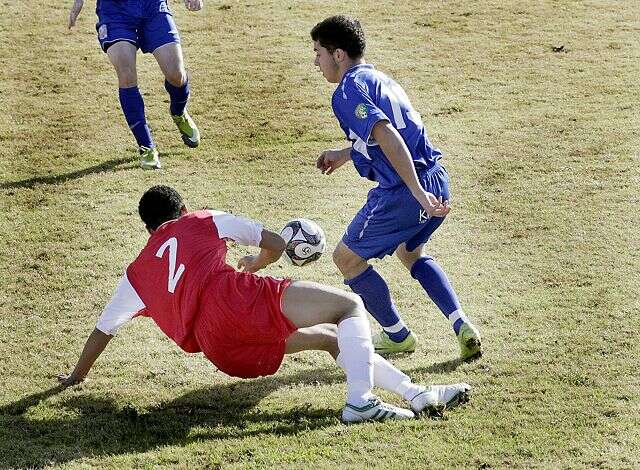 In footballing parlance friendly matches are often handcuffed to the adjective "meaningless".
And as exhibition games go, yesterday's festive fixture between Bermuda Under-20s and the Long Island Rough Riders certainly felt a little inconsequential certainly for Gary Darrell's team anyway.
Fortunately, nothing witnessed at a wind-swept Wellington Oval will have any bearing on Bermuda's fortunes in next month's preliminary World Cup qualifiers in the Caribbean.
For the blustery winds billowing off St. George's Harbour rendered it almost impossible to play anything worthy of being called free-flowing football although, admirably, both teams attempted to do so.
However, neither side were helped by a bumpy playing surface, which leaves one wondering why these important warm-up matches are not being held at BAA Field or the National Sports Centre.
Those superior venues would have arguably offered a far better environment for the Under-20s to prepare for their upcoming 'do or die' qualifiers against Guyana, St. Vincent and Netherland Antilles.
Missing several key players due to the lateness of which these games against Rough Riders were organised by the Bermuda Football Association, Darrell's side struggled to get to grips with the testing conditions and found themselves trailing after just six minutes.
It was a poor goal to concede with Bermuda's defenders being caught square by a threaded through ball for Rough Riders striker Shane Arikian whose low angled shot seemed to wrong-foot goalkeeper Corey Richardson.
Both teams were having problems controlling the ball with the turnover of possession considerably high although Rough Riders, who were visibly older and probably more experienced than their opponents, were certainly having the better of things.
Bermuda though did offer glimpses of attacking intent and showed plenty of character to get back on level terms through Dandy Town midfielder Errin Simons.
The equaliser had everything to do with the strength and perseverance of Dante Leverock who powered past a pair of defenders along the by-line before cutting the ball back for Simons, his Hornets team-mate, to fire home.
Disappointingly, the Under-20s could not remain on level terms until half-time with the New Jersey-based visitors restoring their advantage just two minutes later when Dominick Sarle calmly finished past Richardson.
The second period continued in a similar vein as the first, with Rough Riders putting together the more fluid passing moves but rarely troubling Bermuda's substitute goalkeeper Tahj Bell.
At the other end, Rough Riders goalkeeper Alexander Naples was hardly called upon, with a Quadir Maynard shot from distance, which sailed over the crossbar, the closest Bermuda went to scoring a second.
While it may not have been the win they had been hoping for, Bermuda Under-20s assistant coach, Devarr Boyles, praised the players' efforts and pointed out that several of them had not played competitively for a number of weeks.
"We were hoping to be difficult to beat and for the most part I thought we showed plenty of effort," he said.
"Some of our players' college seasons stopped around six weeks ago and I think that showed a little."
When asked whether he would have rather the game been held elsewhere, Boyles replied: "I'd have liked the game to have been played at the National Sport Centre. The conditions were very difficult but it was the same for both teams and I think the Wellington Oval is one of the better pitches on the Island."
Bermuda will be bolstered by the return of Troy Tucker, Anthony Hunter and Rakeem DeShields for their next match.
The trio were ruled out yesterday because they had already made other Christmas commitments. "We will have a number of key players back for the next game," added Boyles.
"Because of the lateness of which these games were organised some of our players had made other plans."
The Under-20s face the Rough Riders at Lords, in St. David's at 2.30pm on New Year's Day.
C Richardson (T Bell, 45), J Swan (C Castle, 45), D Andrade, R Lee, R Trott, A Nelson, E Simons (S Burchall, 80), T Smith, L Simmons, Q Maynard, D Leverock, (D Albouy, 75).
Bermuda Under-20s:
Subs not used: J. Bather
Goal: E. Simmons, 37
Yellow cards: D. Leverock
Referee: A. Mouchette
Man-of-the-match: D. Andrade