Moving day for Parish as frontrunners stumble
Created: Oct 08, 2018 09:00 AM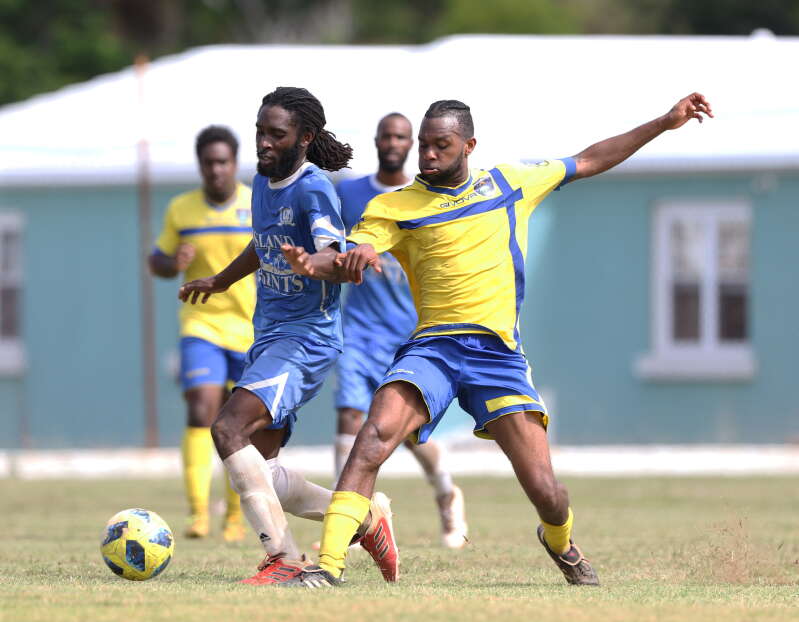 Hamilton Parish capitalised on draws by Southampton Rangers and Somerset Eagles, and a first loss by Flanagan's Onions to move into second place in the First Division yesterday.
However, the Hot Peppers did not have things their own way in their 4-1 win over Young Men's Social Club at Wellington Oval, having to come from behind to secure their third win of the season.
Keoki Cann gave Social Club the lead through an own goal in the 28th minute but Hamilton Parish scored four unanswered goals through Andrew Samuels (33rd minute), Kneiko Richardson (36th and 54th) and Shakeem Albuoy in the 90th minute to secure all three points. The win moves Parish a point behind leaders Southampton Rangers who were held to a 2-2 by Somerset Eagles in a keenly contested match at Southampton Oval.
Eagles took the lead twice before Rangers fought back to earn a share of the points, leaving Eagles with just one win from four matches. Anwar Telford gave Eagles the lead in just the third minute, only to see Jarazinho Bassett equalise for Rangers in the 15th.
Eagles went back in front in the 57th minute, but that second lead lasted only ten minutes before Rangers got another equaliser through Dante Brangman in the 67th minute.
"We consider Somerset Eagles to be a [promotion] contender so we always knew it was going to be a difficult game," said Jomar Wilkinson, the Rangers coach, whose team's promotion hopes last season was hurt by a 1-1 draw with Eagles in February.
"I felt like the first goal was against the run of play, unfortunately my defender didn't make the correct decision. But what was important was how we responded after the mistake.
"We stuck to our game plan, completed passes and ended getting a tap-in. My hat goes off to Somerset Eagles, I thought they played a competitive game and showed desire. But it's a long season and to come away with a point at this stage is not a bad thing."
For the second straight match, Eagles had to settle for a share of the points against one of the top two teams after taking the lead. "Travelling away from home and coming to the home of the team that people say are favourites to get promoted, we knew it was a challenge and that's why we had to be up for it," Rogers said.
"They are a team that went undefeated last year and have added some quality to their team. I was glad that my guys were able to step their game up and recover from the disappointment of last week.
"Hats off to Rangers, they made it a good game and I'm sure the fans were happy with what they saw today."
St David's both teams a favour with their 4-3 win over Flanagan's Onions, picking up their first win while Onions suffered their first defeat. Zachary Morris opened and closed the scoring for St David's as he sealed the win with an 89th minute penalty.
Morris broke the deadlock in the seventh minute before Jack Higson levelled it up with an equaliser for Onions in the 23rd minute. Michael Lindsey-Bailey put Onions in front in the 38th minute before Wolde Jones made it 2-2 in the last minute of the half.
Deshun Hendrickson restored the St David's lead at 3-2 with a strike five minutes into the second half. It stayed that way until Paul Smith struck for Onions in the 83rd minute to make it 3-3. Morris netted the winner six minutes later.
St George's also picked up their first win of the season after beating Vasco da Gama 4-2 at Bernard Park. Kodi Carlington scored twice to guide visiting St George's Colts to the three points, the loss leaving Vasco still without a win after four games in their first season back in the league.
Carlington opened the scoring from the penalty spot after Vasco were penalised for a push in the box during an aerial challenge. The hosts also won a penalty for a foul in the box which Ricardo Ponte converted to bring the teams level.
However, St George's regained the lead just before the half through a goal from Sage Paynter. The visitors then added two more goals inside of four minutes midway through the second half to put the game beyond Vasco's reach.
Carlington grabbed his second to make it 3-1 before Kenton Ottley got his name on the scoresheet shortly after. The hosts pulled one back three minutes from the end through Kevin Arruda to make the scoreline more respectable.
In the other match Devonshire Colts and Ireland Rangers drew 2-2 at Police Field.